The most proper candidate for tummy tuck surgery is the patient with a skin overhang, moderate diastasis and stretch marks below the belly button. In addition, it is the one with a stable weight for the past 6 months and done with childbirth.
Most women who undergo this surgery are in the reproductive age. Therefore, getting pregnant after abdominoplasty is not uncommon and most are likely to proceed to uneventful delivery. However, there is a good chance that you may require a "revision abdominoplasty ".
Abdominoplasty entails removing the redundant skin below the umbilicus, tightening of your abdominal muscles and most surgeons perform liposuction of the waist area as an added procedure, allowing you to have a better contour.
Smoking has been always associated with a bad outcome in terms of wound healing and recovery. Poorly controlled diabetics, patients on steroids, obese patients, those with chronic cough or constipation, patients with history of previous blood clots and those with abdominal hernias; all, need formal evaluation and may require clearance before surgery.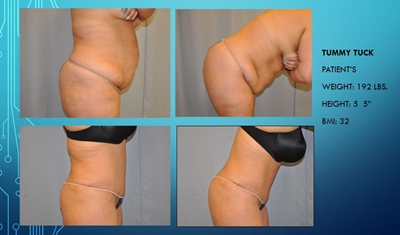 A small group patients with excess intra-abdominal visceral fat and small pelvis "potbelly stomach" may not be able to achieve the flat stomach they anticipate despite maintaining ideal weight and tightening of their muscles during surgery.
Most of the literature recommends a BMI closer to 30 or less to represent an ideal candidate for tummy tuck operation. You can calculate your "BMI" based on your height and weight. Calculate Your BMI – Metric BMI Calculator. However, for most patients this is easier said than done, this may not be very practical for all.
*Figure 1 illustrates the before and after of an actual patient with a BMI of 32 who obtained a satisfactory outcome.
In real life, overweight patients compose a significant percentage of the population that present for abdominoplasty and this should not deny them from having a great result. Still, reducing some weight before surgery will optimize the outcome of their procedure and encourage them to adopt an active lifestyle that will likely to continue after surgery.
Board Certified Plastic Surgeon, Dr Maan Kattash is a specialist in tummy tuck surgery. Click here to see more of the procedures performed by Dr. Kattash  http://drkattash.com/plastic-surgery-photo-gallery/ in our Beverly Hills, Los Angeles, Rancho Cucamonga and Irvine locations or call 310-550-6174 to schedule a complimentary consultation.